Integration
Update Time:2021-04-25 20:24
---
1 Prerequisites
2 Prepare the Environment
Before starting to integrate ZegoWhiteboardView SDK, please make sure that the development environment meets the following requirements:
Xcode 6.0 or above.
iOS device or simulator with iOS 8.0 or above and supports audio and video (recommended to use a real device).
The iOS device is connected to the Internet.
3 Integrated SDK
3.1 New Project (Optional)
This step takes how to create a new project as an example. If it is integrated into an existing project, you can ignore this step.

Start Xcode and click "Create a new Xcode project" in the "Welcome to Xcode" window or select the "File> New> Project" menu. In the form that appears, select the iOS platform and select "App" under "Application".

Fill out the form and select each option to configure the project, and click "Next".

"Product Name" and "Organization Identify" must be provided to create a "Bundle Identify" that identifies the App in the entire system.

Select the project storage path and click "Create" to create the project.
3.2 Import SDK
Developers can use any of the following methods to integrate the SDK.
Method 1: Use CocoaPods to integrate SDK automatically
If you have not already done so, follow the CocoaPods Installation Guide to install CocoaPods on your computer.

Open the terminal, enter the project root directory, and execute the pod init command to create a Podfile.

Open the Podfile and add pod'ZegoWhiteboardView/Express'.

Execute the pod install command to install the SDK.

Import the ZegoWhiteboardView SDK header file #import <ZegoWhiteboardView/ZegoWhiteboardView.h> in the project.
Method 2: Copy SDK files and integrate SDK manually
The SDK library file contains two folders iphoneos and iphoneos_simulator, the differences are as follows:
iphoneos is only used for real-device debugging. The user needs to use ZegoWhiteboardView.framework under this file when it is finally released, otherwise it may be called back by Apple.
iphonos_simulator contains libraries for debugging on real devices and simulators. If you use the simulator to debug during the development process, you need to import ZegoWhiteboardView.framework in this folder. But when it is finally released, switch back to the framework under the iphoneos file.
In the following setting steps, please select the framework file that meets the development requirements.
Please refer to SDK Downloads to download the latest version of the SDK, and unzip it after the download is complete.

Manually copy the SDK dynamic library files to the project directory.

Open Xcode, select "File > Add Files to "xxx" (xxx is the project name)" menu to add SDK library files to the project.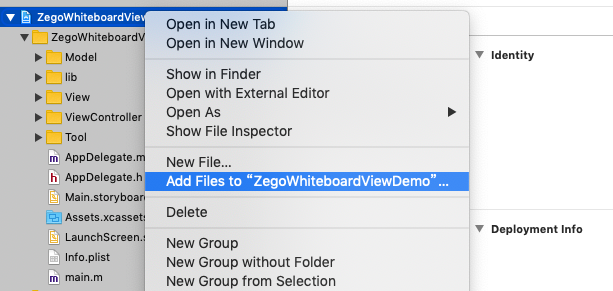 Select "TARGETS > General > Frameworks, Libraries, and Enbedded Content" menu, add "ZegoWhiteboardView.framework", and set "Embed" to "Embed & Sign".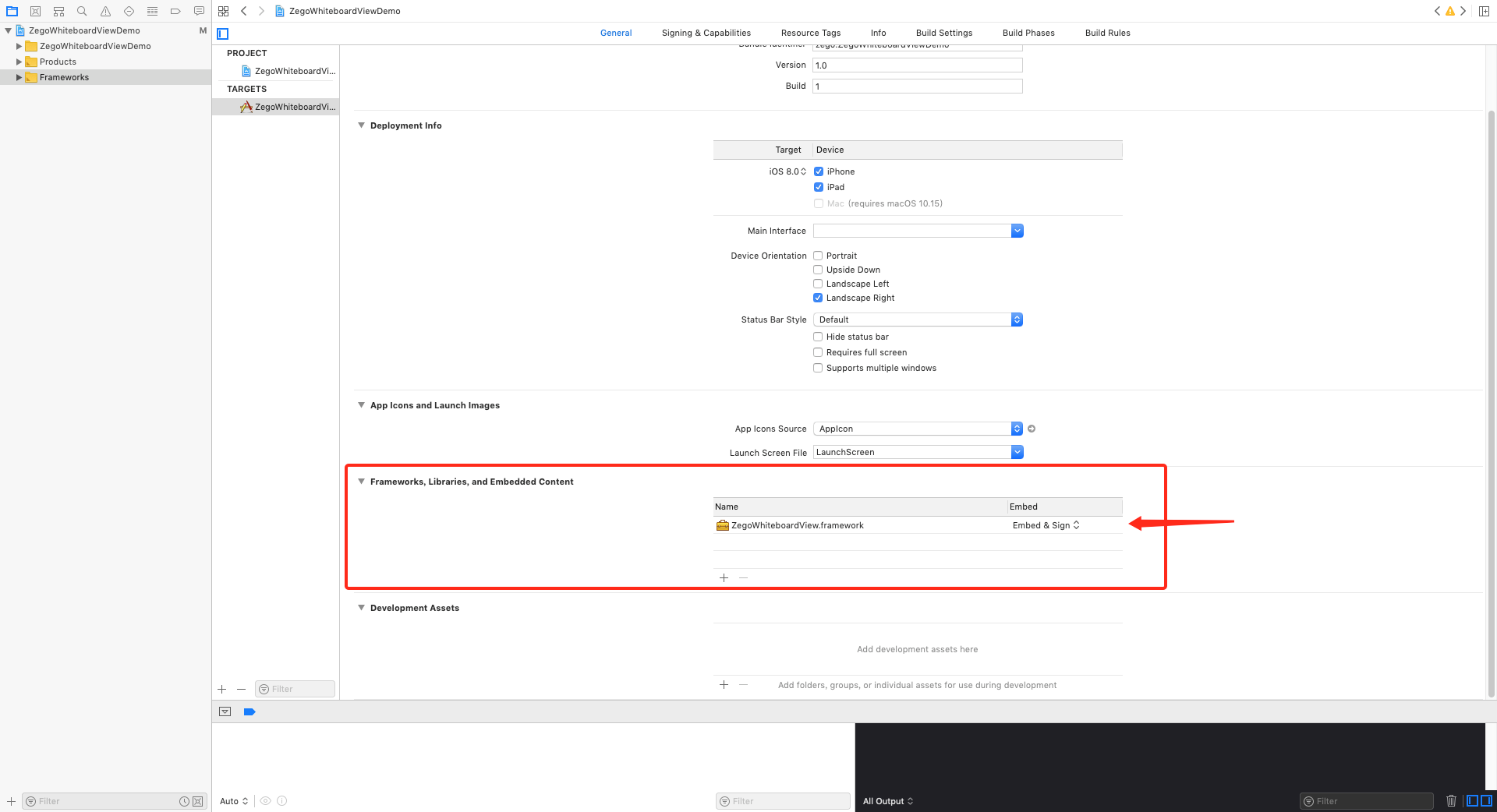 Select "TARGET > General > Deployment Target" and set version 8.0 or above.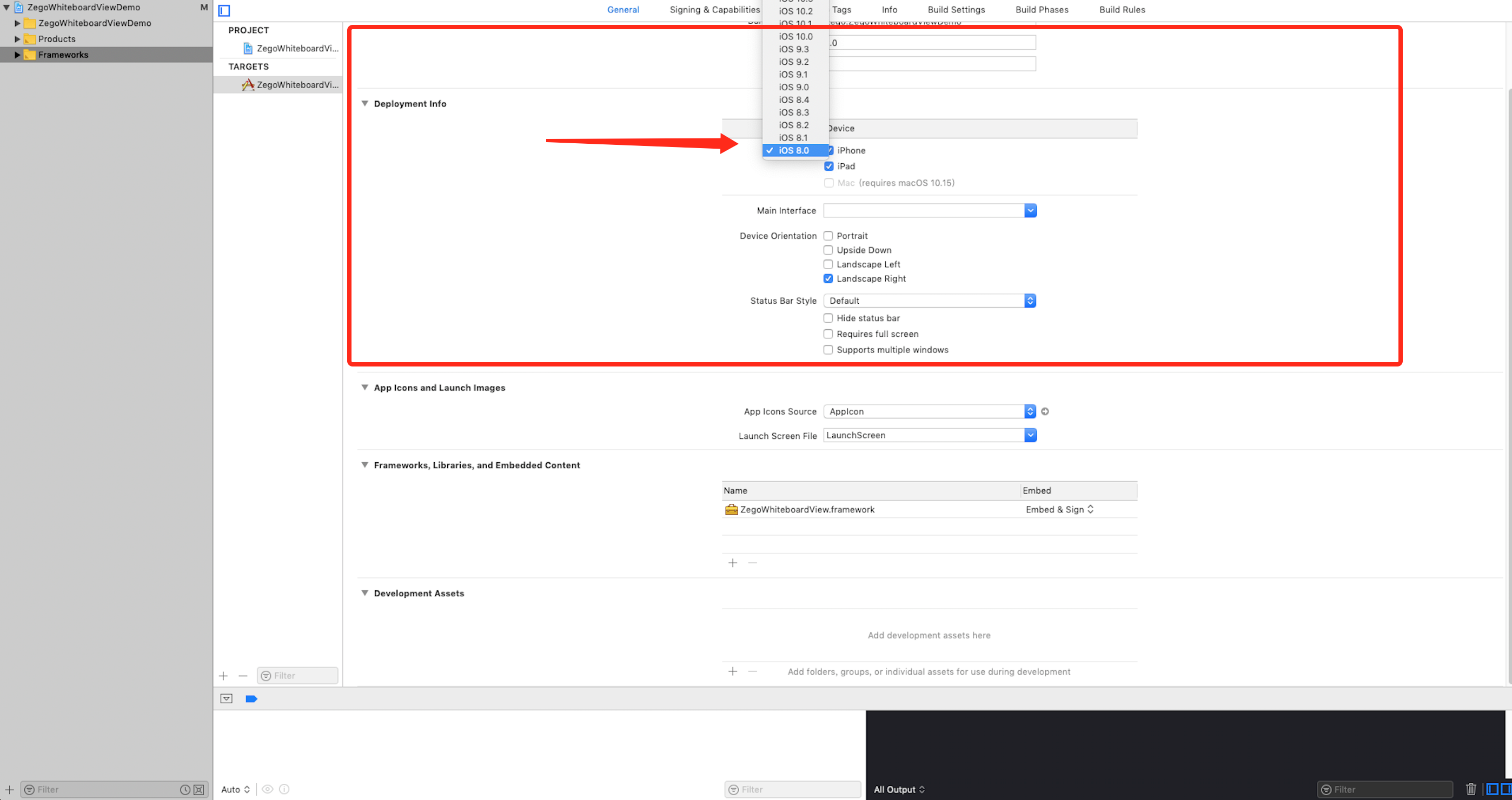 Does this document help you solve the problem?